I attended HackFSU 2015 as my first hackathon and went into it not knowing what to expect. I had an amazing weekend and saw what this whole hackathon and student run event culture was like. Soon I was deeply involved with Technole, the FSU tech group and was off to even more hackathons. By then, I knew I had to be involved in directing my own.
After organizing a smaller scale hackathon on my own, called LyteHacks, that focused on one-day long hackathons at a local scale, I had gained some experience with the thought and attention needed for these unique events. I'll be doing another post centered around what I learned through that experience.
By summer of 2015, I was joining organizer meetings and helping to lay the groundwork for the 3rd iteration of HackFSU. Soon enough, I volunteered/was asked to be Sponsorship Director with Matt O'hagan as the User Experience (UX) Director and Deanna Cook heading up Logistics.
The first step for our entire team was to figure out the vibe of the event so that we would be able to build the rest of the event around it. The branding team worked under the UX team and they were able to craft a great brand. Centered around the words "Create", "Design", and "Learn", we wanted to have an inviting atmosphere that would bring in students from many disciplines, not just technical ones. Working in a lot of pictures with overlays of blue, green, and red, we definitely had a defined image and brand.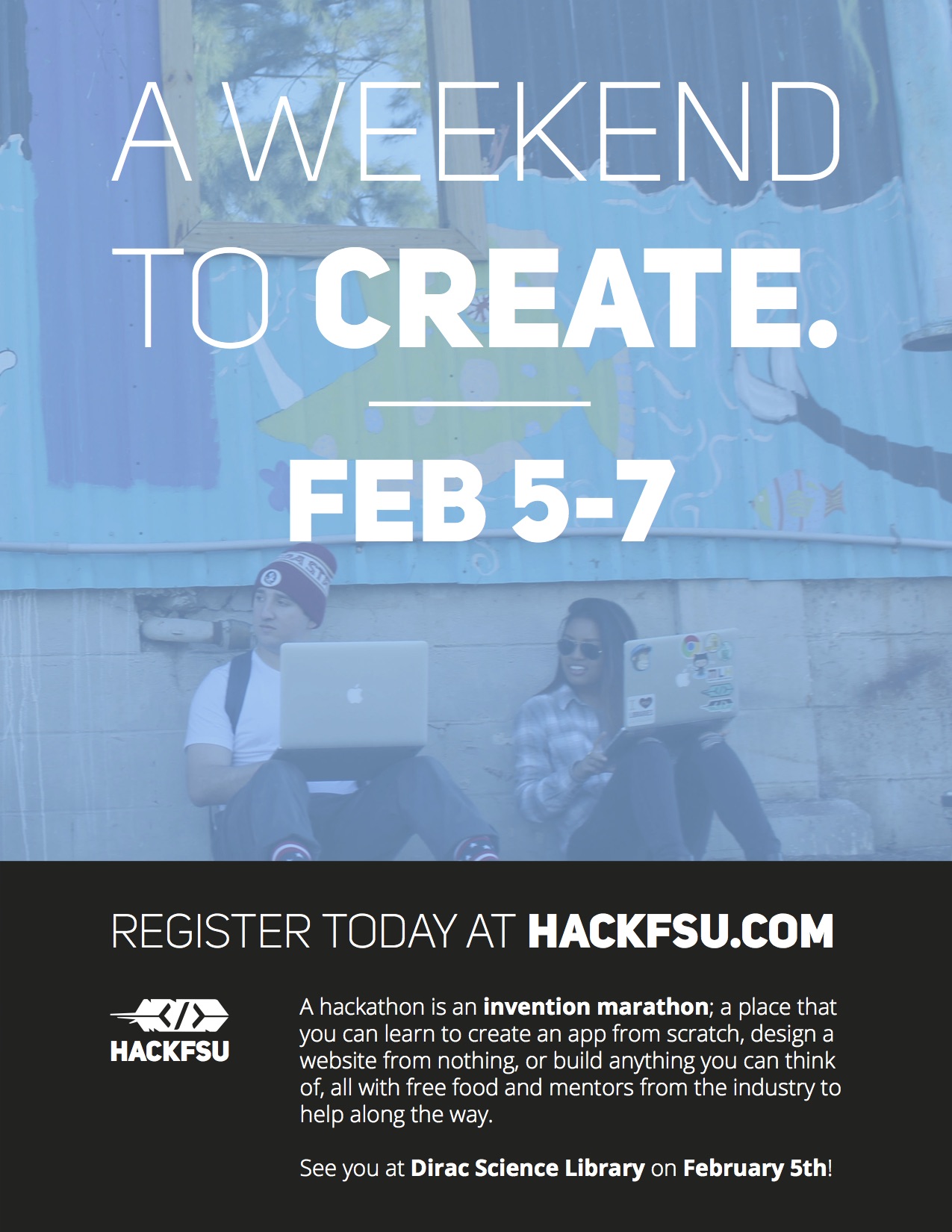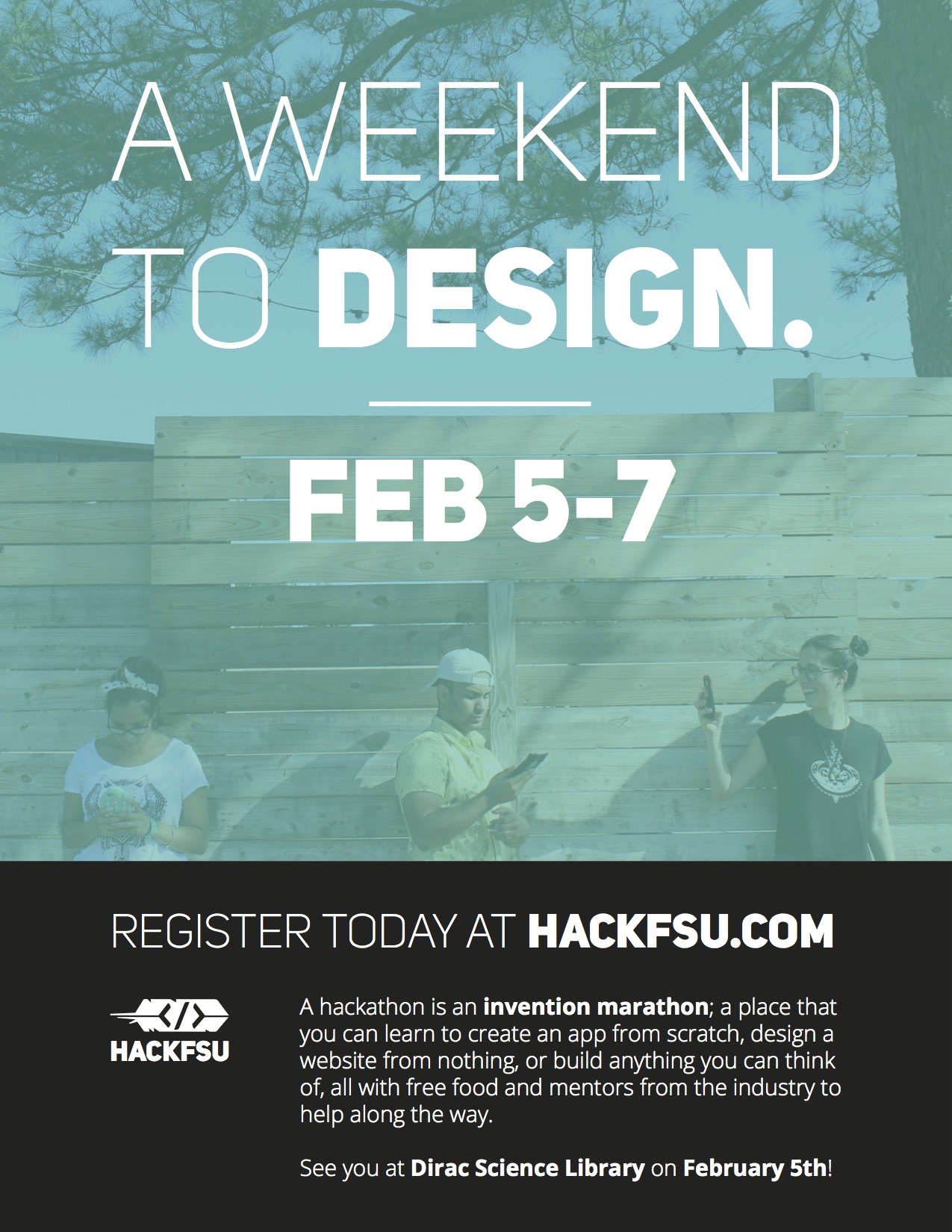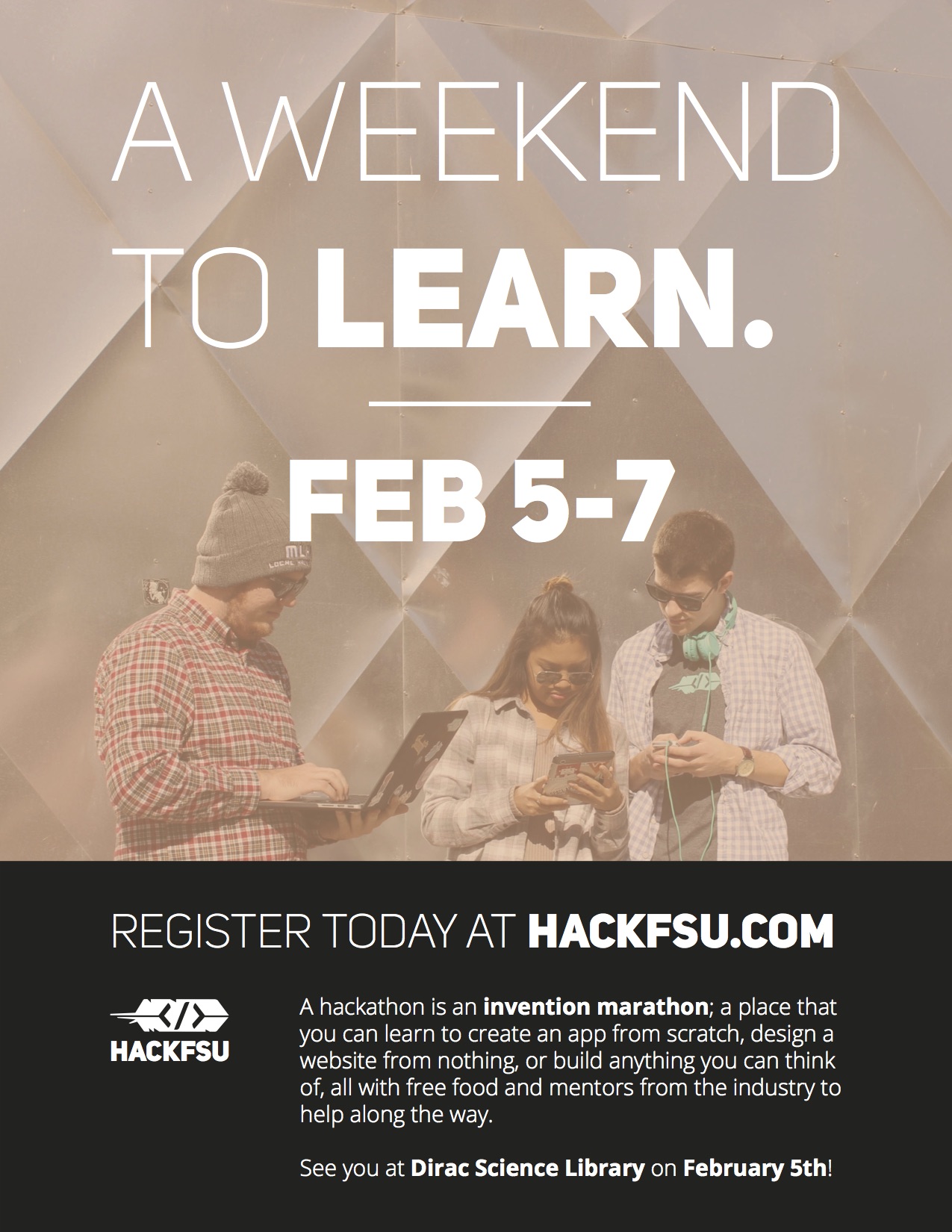 Working off this cohesive branding that existed across all kinds of platforms is important for the sponsorship team. Being able to separate your event from the countless other hackathons happening each weekend was key and communicating our value proposition really helped us lockdown amazing sponsors for the event.
After working with many teams with groups of fellow students that don't have overlapping schedules, organizing a pretty comprehensive timeline of the to-do's is key. The team doesn't have the ability to work on this 8-5 every weekday (Jeez, that would make these events so much less stressful to organize) so making sure that everyone is understands their due dates makes it easier to track progress and for individuals to schedule their work time.
Team Management
Much of the communication for organizing HackFSU took place through a Slack team with carefully chosen channels. Here is a little breakdown of some of the channels:
#Announcements

- A place for important news and meeting announcements.

#Branding

- Branding discussions and a place to drop assets, shipped designs.

#Dev

- Main dev site to handle that team. There were also other dev channels specific to certain aspects. (Front-end, back-end, mobile-ios, mobile-android)

#Logistics

- For food, venue, and other logistics team discussions.

#Marketing

- Channel for social media post planning and other coordination.

#Mentor-Judging

- This was used to discuss Mentors and Judging. As we got closer to the event, creating these types of channels where members from multiple teams need to discuss a very specific, but complex topic, proved to be very useful.

#Social Media Posts

- We incorporated a twitter slack bot to pull tweets mentioning HackFSU as well as the tweets made by HackFSU. This allows the entire team to see these types of conversations and replies are not limited to just the social media coordinator/team.

#Sponsors

- The channel used by my team to handle the entire sponsors process.

#The Fam

- The standard catch-all channel where everything could go.

#University

- This was another specific channel used to manage university relations and outreach. Involved the marketing, logistics, and sponsorship teams.

#UX

- The general channel for the UX team to organize their tasks and discussions.
Meeting announcements were done via slack and we used their reactions as a way to easily gauge attendance. If we noticed, someone didn't react to the post, then we would message them individually to ensure they saw it and get their feedback.

6 pro tips for slack teams:
Make sure everyone downloads the Slack app on their phone and computer and turns on notifications. (There is no point to being able to "@" someone if they will never get notified.
Have people set their picture to a nice headshot of themselves so they are easily recognizable and they have their name set next to their icon rather than their username.
If you can, also encourage people to set their username to their name so you don't have to remember how to type an obscure user name when you are trying to tag someone.
Also ask people to set their phone number in their bio so that if you do need to reach them via phone, you don't need to access any kind of spreadsheet buried deep in google docs.
When you make tags such as @channel, @here, or @everyone, you can pull up the Channel Details tab on the #announcements channel and then look at the members section. With that pulled up, when you send an announcement, you can see who reads it by noticing which people light up as online (green circle). This is a great technique to complement the reactions method mentioned earlier.
Give a Slack Workshop! If you are a slack ninja, chances are your team is new to Slack or they don't know all the great tricks you know. This is a great opportunity for you to go through the channel structure and how you expect the team to operate on it while also showing them all the great shortcuts and tools that come with the platform.
Having your team develop new skills should be part of your mission as a leader and so having these workshops for your team is a great way to give back to them for their hard work. Reach out and ask them what they are interested in working on and leave tons of room for initiative. I have found people are much better team members and create better work when they are excited about what they are working on.
With all of these management techniques in place, we were able to have a great flow of open communication. And remember, if your slack is inactive for a day, you are probably falling behind. An active slack keeps your team members engaged and constantly checking in so they aren't worried about missing anything important.